Also known as: "DOOOORIIIIEEEMOOOOOON!!"
Download Episode HERE! (Total Time: 59:06)

The day has finally come, where we make our 50th Podcast episode. And what better way than to do a recorded interview with a video game voice actress like Lisle Wilkerson. You wanna know something else, this was recorded 3 months ago at the end of May, and we still have a back log of recordings. At least it shows that we will not run out of content anytime soon…
(0:00 – 59:06) Interview: Lisle Wilkerson – We are humbly joined by the voice talent behind the recent voices of Christie Monteiro and Sarah Bryant in the most recent games of Tekken and Virtua Fighter (oh yea, don't forget about Shenmue 2 now). Of course, to anyone who plays those games, it's hard to focus on the voice behind the 3D model that is countering your attack for the tenth time in a ranked match (remember Joy in Shenmue 2? Yea, DON'T FORGET ABOUT SHENMUE 2). We of course ask Ms. Wilkerson questions on how she was able to get her foot into the door of video game voice acting, what is the voice acting world like currently,  what it was like growing up in Japan, working with Bill Murray in Lost in Translation, chatting about her works in video games (like Crazy Taxi and OF COURSE SHENMUE 2!!), being in fixed boxing matches, the current life of Calf., her upcoming (really past) con schedule for this year, and old school anime talk. All this and more in this episode…
The terms Lisle used in this interview for the Japanese language inclined:
Hafu (ハーフ)
Kikokushijo  (帰国子女)
Anime titles that are fond of Lisle and that we even mentioned to her:
Candy Candy
Attack Number 1
Aim for the Ace
Doreamon
Hello Kitty
Gunbuster
Space Adventure Cobra
Ashita no Joe
Music Selection:
OP – I am just making sure… no one forgets about Shenmue 2
ED – Bring this song back when Crazy Taxi 3 ever gets made…
This show has:
---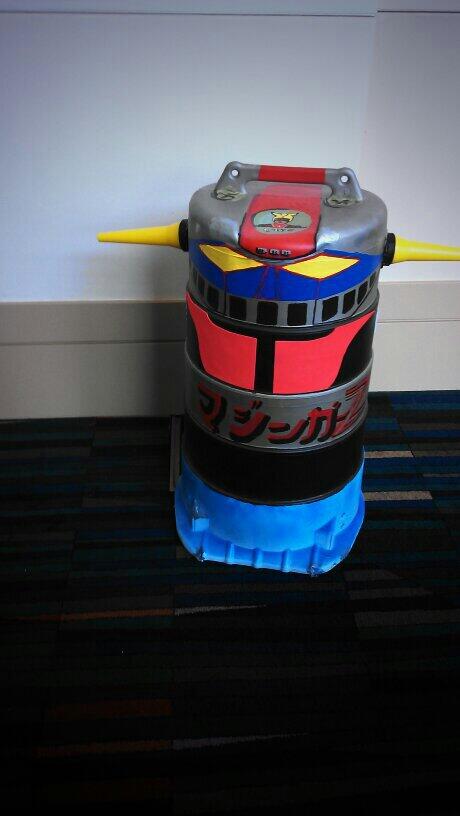 Also known as: "She had me at Cyber City Oedo…"
Download Episode HERE! (Total Time: 1:18:37)

Ok, so here's the deal guys: This con was back in April of this year, so almost 4 months ago, and Zeonic is NOW getting this report out towards the end of the summer. I am sure there was ample time to for him to put something out between now and then, but he didn't, and he really doesn't care. Zeonic can't blame this one on procrastination (well, maybe a little bit) because hey, if you check on what came out between now and April, we have had a full plate on talking about a variety of things that has happened. So without further ado, here is what Zeonic thought about Nashicon. (WARNING: THE AUDIO SUCKS IN THIS!)
(0:00 – 35:00) The beginnings of a Convention Report: NashiCon: Being how this is Zeonic 3rd year to attend NashiCon, it is an improvement from last years venue he must say. With a kicking game room done by the people who do the game rooms for Animazement, actual guest like Robert Axelrod and Lisle Wilkerson to attend this year and panels of interest to go too, this has gone up in quality to his con standards (I guess I can't talk to much there.) This also gets Zeonic to talk about an "obscure" anime panel that he believed had anything to do with obscure anime, getting to know artist alley girls by their mention of Kawajiri anime to start a conversation with, talking about the game room, discussion of the LejiVerse, which diverts to…
(35:00 – 55:40) AN INCOHERENT SEGUE TO GENERAL VIDEO GAME TALK:  Yep, we spend this time talking about video games because we can. This went to talking about game systems, how Zeonic spent money on a Wii that is just and emulation device now, android games that lets you see the world, some youtube troll personality, Sonic talk, Shenmue discussion and probably some more. But when Zeonic went to mention Lisle Wilkerson…
(55:40 – 1:18:37) The failed attempt to finish a Convention Report: NashiCon: Both Zeonic and Jonn were able to get it together and complete the task before them, which is just more discussion of talking about people at the con and con life I guess you can say. This did talk about people with signs at the con, what Zeonic got at the con (which was talk of Cosmo Police Justy in America. Here is a link to ebay on what people want for the Justy VIZ print these days), 90's Nickelodeon show talk, and more stuff I cannot really remember, which there was more to mention.
Links to stuff I mentioned in this episode (if you couldn't make it out):
Vicious Violet Productions (Artist Twitter)
ANN article on the Carolina Manga Library
My written article on Cosmo Police Justy I did for the AAA Podcast almost 3 years ago as of this post
Music Selection:
ED – The song for the modern "Mor-ans"
This show has:

If you look at the description, i'll let you guys be the judge of what is considered "obscure." (This video may not play in your "country" due to youtube restrictions or whatever)
---